CORNZAPOPPIN - THE BEST GOURMET POPCORN I HAVE EVER HAD!
---
- Woodie - CFO of FlavorX, Inc. An Inc 500 Company

YOU'LL BE GETTING MY ORDERS FROM HERE ON!!!
---
- Woodie - CFO of FlavorX, Inc. An Inc 500 Company

CORNZAPOPPIN - THE BEST GOURMET POPCORN I HAVE EVER HAD!
---
- Woodie - CFO of FlavorX, Inc. An Inc 500 Company

YOU'LL BE GETTING MY ORDERS FROM HERE ON!!!
---
- Woodie - CFO of FlavorX, Inc. An Inc 500 Company
What makes Cornzapoppin so great?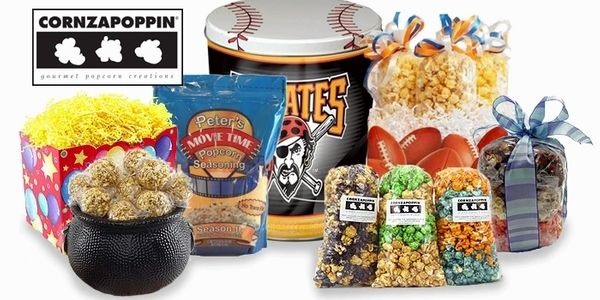 Cornzapoppin offers gourmet popcorn in a variety of delicious flavors (40+ flavors). Cornzapoppin is also a corporate marketing and advertising company that can customize popcorn tins and custom gift baskets for brand awareness and employee recognition. Did you know that Cornzapoppin also offers a huge selection of NFL, NCAA, MLB, NHL and NBA officially licensed popcorn tins? Maybe there is a wedding in the future or other large event...let Cornzapoppin cater to your exact gourmet popcorn needs. We even make popcorn balls! Anytime you are in the Denver, Colorado area or online, choose Cornzapoppin Gourmet Popcorn Creations.
Take a virtual tour of our store
For Email Marketing you can trust.
THE BEST GOURMET POPCORN I HAVE EVER HAD!"
- Woodie - CFO of FlavorX, Inc. An Inc 500 Company
I have found that the Cornzapoppin web site is one of the easier sites to navigate!
Thank you!
- Shannon K.
Thank you for getting back to me. Your products are delicious and were packaged in a very cute manner! I will definitely be purchasing from you again. Thanks again for your quick response.
- Helen T.
I would just like to say thank you for your fast efficient service! This popcorn was a gift for my cousin [who] can never find the "Cornfetti" kind of popcorn. Thank you for having Cornfetti!!! Your product was "everything she remembers it was and exactly the way popcorn should be." I am definitely going to recommend you to my friends and family, and I will be purchasing again soon. You made my shopping experience very enjoyable.
- Erin H.
I just wanted to say that I had you ship a triple can to my father in Las Vegas and he is still ranting and raving about how wonderful your popcorn is. He took some to work with him and it was a huge hit!! Thank you.
- Carey
My son and his family sent me a 2 lb. tin of your Cajun Creole, Cornfetti, and Creamy Carmel popcorn. I have enjoyed every bite of all three popcorns. My wife and I went out for dinner last night and I could not wait to get home to have some of the great tasting popcorn. In December we will be in Highlands Ranch visiting our son and his family and we will have to stop by for some more popcorn. I am glad that I can order it on-line which I will have to do until I can get back there.
 - Al C. Dixon, CA. 
I have been thoroughly impressed with your company, as I have placed many, many orders with you. The man that called and offered me the combined shipping was so very nice to do that. I cannot tell you how much that meant to me that he took time to save me money!! I think your company is excellent and will refer you to everyone!!!
- Taylor H.
Hi Rich--Party is OVER!!! Yeah. The popcorn was terrific----had some left over---still eating it...won't stop till its gone. I just want to thank you for helping me--I looked like a hero---and my wife thought I couldn't manage one simple task!!! Anyway, again thanks for your professionalism and, most important the popcorn-----made the party fun--really!
- Ed D.
I would just like to say thanks. I have been contemplating the purchase of popcorn from this company for a little bit, and today I received a courtesy call regarding any problems I might have encountered while visiting the web site since I had yet to purchase with multiple visits and attempted picks. It really means a lot to receive great customer service like that. I just placed my order and I can't wait to get it! Thanks Again, Samantha D.
- North Carolina
The Steelers Popcorn Tin arrived on time and my grandson was a very happy 7 year old! Thanks so much for your fantastic customer service!! I have your website in my favorites now:-)
- Linda D. of New Jersey
I sent some popcorn at Christmas, and the service was great. Then, when there was a problem with FedEx, Cornzapoppin worked with me to get it resolved! Thanks, Cornzapoppin!!!
- Mary
I received my order yesterday but wanted to sample all of the flavors before contacting you. I want to say thank you so much for offering reasonable shipping charges -- considering the size of my order, my shipping cost was above and beyond reasonable -- in addition to delicious popcorn. What I don't understand is how some of the other popcorn/snack merchants stay in business with their outrageous shipping charges. You'll be getting my orders from here on!!!
- Barbara W. of Maryland.